International Speeddate
Oct. 13, 2020, noon - Oct. 13, 2020, 1:25 p.m.
Celestijnenlaan 200E – outside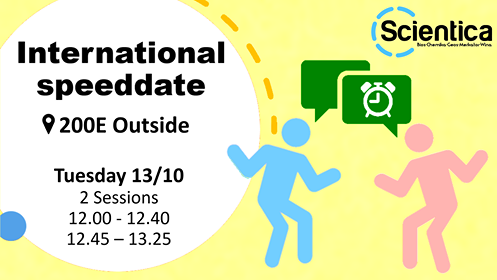 Hello! Would you like to get to know more local students? Then you should definitely come to our speed date during your lunch break on Tuesday 13/10!
!Don't forget to register with the links below!
!These links are only for those who will participate as an international student!
There will be 2 sessions, so you can choose whichever works for you:
Session 1: 12:00 - 12:40 https://forms.gle/HZbNzfm3KVMjso2bA
Session 2: 12.45 - 13.25 https://forms.gle/b3hYxkfkiBLKB1617
We will keep it corona free, so bring your face mask with you 😊